Free shipping from Ohio.
For developing a strong number sense, practicing addition, subtraction, and familiarizing little ones with the base 10 system - look no further than our strong and sturdy wooden ten frame! Featuring a beautiful, thick, rectangular board with squares in a 5x2 pattern and a set of 10 small wooden counting pieces for endless hands-on mathematics practice.

Inspired by Montessori materials and modern mathematic curriculum, we created this tactile, durable activity to make learning and numeracy a little more fun and a whole lot more beautiful.

The ten frame board is made of solid maple wood, and the coordinating counting pieces are lightweight circles in a lovely contrasting walnut wood type. Made of durable, natural materials and easy for little ones to maneuver, grasp, count, and explore as they learn and play. The 10 counting pieces come in a lovely little cloth drawstring bag for safekeeping and sustainable, eco-friendly storage.

Each ten frame set is designed with love and made by hand in our Ohio workshop from locally sourced lumber. Sealed with organic food-grade mineral oil and safe for children of all ages to enjoy. This modern math board is a lovely addition to a playroom, classroom, or homeschool environment - sure to be enjoyed by little hands and eager minds for many years.

Each board measures approximately 10" wide x 4" tall and 0.625" thick. Round counting pieces are approximately 1.25" in diameter.

Please note that each set is unique and made-to-order; wood tone and grain will vary from piece to piece.

Made in-house

American Made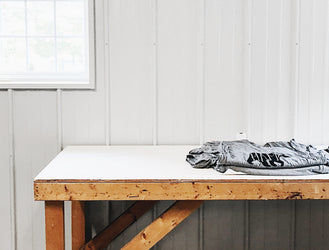 How It's Made
From start to finish we keep our design and production in-house, ensuring the highest level of detail and care for each and every order.
Shop now