Free shipping from Ohio.
How many days, weeks, months, and years?

Whether you're counting down to something or simply commemorating the passing of time, this versatile, modern blocks set is the perfect piece for all your styling & photography needs. Keep track of weeks of pregnancy, days until a family trip, or how many weeks old your precious little one is now! The options are endless with this handmade wooden set that measures and treasures your important dates and timelines.
Our beautiful heirloom quality wooden block set that features timeless typography engraved onto solid maple wood. Base block is approximately 6" long by 1.75" deep and wide, and each of the 3 numerical blocks are approximately 1.75" cubes. With numbers engraved on all 6 sides of the 3 different blocks, countless numerical combinations are possible. Comes packaged in a reusable muslin bag for easy storage when not on display or in use.
Each set of blocks is designed with love and made by hand in our Ohio workshop from locally sourced lumber. Sealed with organic food-grade mineral oil and safe for children to handle and enjoy. These modern blocks are the perfect photo prop for all your special moments, big and small. Makes for a creative nursery or holiday display piece, as well!
Please note that each set of blocks is unique and made-to-order; wood tone, hue, and grain will vary from piece to piece.
Made in-house

American Made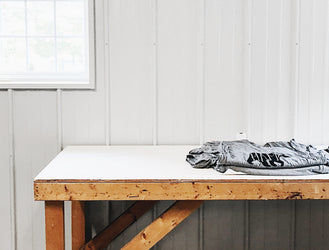 How It's Made
From start to finish we keep our design and production in-house, ensuring the highest level of detail and care for each and every order.
Shop now
Beautifully made!
I wanted something unique compared to all the typical milestone cards out there. These blocks are beautifully made and I'm so happy I went this route!
Great quality!
Exactly what I wanted and perfect quality and condition!